---
Testimonials for Ductwork Pro
We have purchase your Ductwork software and use it frequently. Very user friendly. I reccomend it!
P. Duncan, Smith Engineering
"I had purchased your software a while ago. Man made my life much easier!!!
Thanks again its awsome!!!..." R. Mourey. Maple Shade, NJ
"...I think it is a wonderful program, and hope to continue to do business with you..." A. Taylor, PE, Princeton Junction, NJ

"I recently downloaded your ductwork software and thus far I'm very impressed with the simplicity of use.

", R. Brandel



Ductwork Pro Version 2.0 is here!


Some Noteworthy Features:
Toolbar Menus
Toolbar menus are now available for the most commonly used fittings and features. This makes use of the system much easier. These fittings can be added to your drawings with 1 click. No menu navigation necessary.
Each tool on the toolbar has descriptive "tool tips" that momentarily appear when the mouse pointer is over them. This helps to remind you what each item will do.
Ductwork Options Dialog box: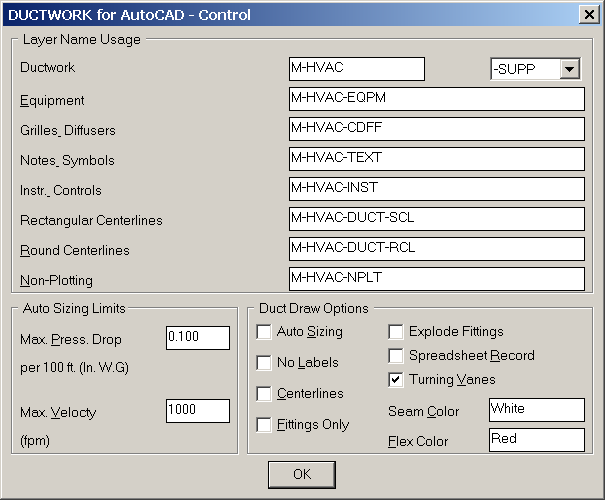 The Ductwork Control dialog box has a feature to select from a list of commonly use duct layer names. By default, AIA style layer names are used. However, you can customize the layer names to adhere to your company standards. Also, we have added controls for turning vanes and selection of color for special items.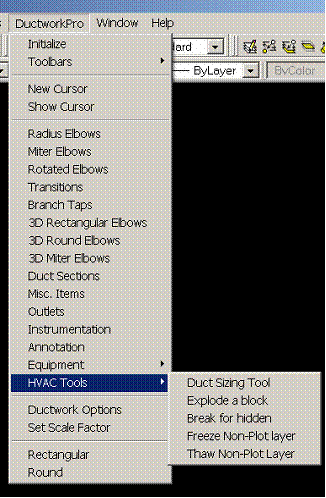 The primary menu for the system is now the DuctworkPro pull-down menu. The menu has been re-designed to be more useful.
Some of the menu items work to perform a function directly, and other will invoke an icon menu to allow you to select a fitting.
Control over all color usage.

In previous versions, the color used for duct seams and other minor lines was fixed as RED.

This meant that you may had to adjust your color to lineweight settings to plot your drawings correctly.

From now on, you may choose the color to use for these lines.

All colors are now adjustable and you are no longer forced to adjust your plotter settings.
Turning vanes for mitered 90 degree elbows.

You now have the option to show turning vanes for mitered elbows.

By default, turning vanes are turned on.

Turning vanes are automatically drawn to an appropriate size depending on the scale of the drawing.
Fan Powered Terminal Units.

In addition to the VAV/CV terminal units, we have added fan powered terminal units.

They are selected from a special menu and dragged into place like any other fitting.

The duct cursor is automatically placed at the discharge opening.
Compiled Lisp Programs.

All versions of DuctworkPro are now shipped as compiled lisp programs.

This makes the programs load and run much faster and occupy less disk space.

Various bug fixes and minor improvements.

Revised and improved User Guide and Menu Programmers Guide
Back to Main Page
Updated: April, 2018

send inquiries to w4lks@hvacware.net